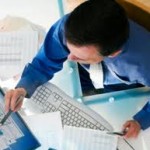 As active business owner I want to be aware of the development aimed to small and medium enterprises. Especially I am interested in invoicing software market. I used to try several programs for invoicing and have some experience to compare them. I also enjoy talking with people who use some software and find out their opinion. I would like to share my knowledge with people who are seeking for business solutions.
First of all I pay attention to the price of the software. Some providers attract customers with offering totally free invoicing software. But there is no such thing as a free lunch! Keep this in mind! I used "free" programs and after some hours revealed that the usage of some basic features is inaccessible. Word "free" is used just to get customers inside. Actually good software is never for free. It is an axiom that is tested not once. There can be another good option - you are allowed to use software for free for some period of time. I was using my current invoicing software Invoiceor for free two months. It was enough to understand whether I like it or not. Actually I enjoy that software. There is a balance in number of features. All necessary basic features are provided and invoicing software is not too complicated with useless things. My invoicing software was realized not long ago. But it has been already appreciated by people.
Maybe I have specific approach to business, but I think in everyday tasks should be at least a little bit of pleasure. For example, your office should be comfortable and cozy, colleagues should be friendly, etc. The same is with invoicing software. I am pleased to work with my software, because it is professional and smart. We spend at work half of our life or even more, that is why we have to care about our working conditions.
---
Andra inlägg